Medicare Liens

The Lien Resource – We work with other plaintiff firms to ensure Medicare compliance in personal injury cases. By taking two minutes to fill out this form, we will remove the burden of Medicare reimbursement from your case so that you can concentrate on what matters most – maximizing your client's recovery.
If you'd like to get started, simply fill out the form below and we will send you an invoice and releases for you and your client to sign. For questions, contact one of our attorneys at (912) 401-8880 or email contact@jarrettfirm.com.
---
What You Do
1. Submit the form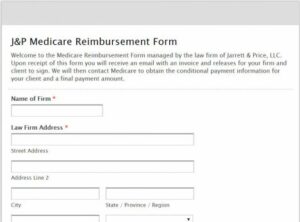 2. Sign releases and pay $500 invoice to Jarrett & Price
What We Do
1. Write Medicare on your client's behalf to obtain "conditional payment" amount to determine what Medicare paid
2. Coordinate with your client to remove any unrelated treatments
3. Upon settlement, obtain from Medicare the necessary pro-rata reductions for attorneys fees and expenses
4. Obtain "final payment demand" from Medicare
5. Notify you how much to pay
---
Tips for Medicare Compliance
Start early. Medicare will often take up to 65 days to provide you with their payment amount, called a "conditional payment" number. Ideally, contact Medicare or hire us at least 2 months before your case settles
Alert your client there may be delays in receiving Medicare correspondence needed to finalize the case
Review Medicare's itemization to ensure there are no unrelated treatments. We will send a letter "purging" these unrelated treatments. Note this saves your client money, but often results in additional delays
Conditional payment numbers often change. Always withhold at least 30 percent more than Medicare's last conditional payment amount to prepare for these changes
Place the "Medicare Case ID number" on all correspondence and checks
Always obtain an image of the front and back of your client's Medicare ID card. The "HIC" number (i.e. Medicare number) is often the social security number with an "A" on the end
---
Jarrett & Price are recognized experts in the complex area of healthcare lien reimbursement. Some of the top plaintiff lawyers in America hire our firm to investigate and resolve their client's liens, and our attorneys regularly speak at legal seminars and publish articles in trade magazines on this topic. To date, Jarrett & Price has saved plaintiffs millions of dollars by reducing or eliminating their obligation to pay liens. For more about this area of our practice, visit our healthcare lien page.